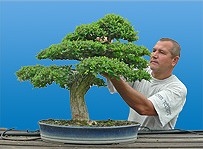 Before I started to deal with bonsai all I knew about plants was that they are usually green.
Then once I had the chance to see a bonsai-collection and I was overcome by a funny feeling. There I felt that's what I want. I fell in love.
Right then and there i started to collect, growe and form plants.
Since then I'm possessing a collection which consists of nearly thousand piece in which there are bonsaies, shape-trees and pre-materials await for shaping them.
In order to accomplish trading activities I established Bonsai Hungary Ltd.
My goals: to develop a novel viewpoint and garden culture and to transmit the feeling - which gives me so much pleasure - to others too.
If it has happened in some cases already worthed it!
Imre Feher